"Geoff's 99"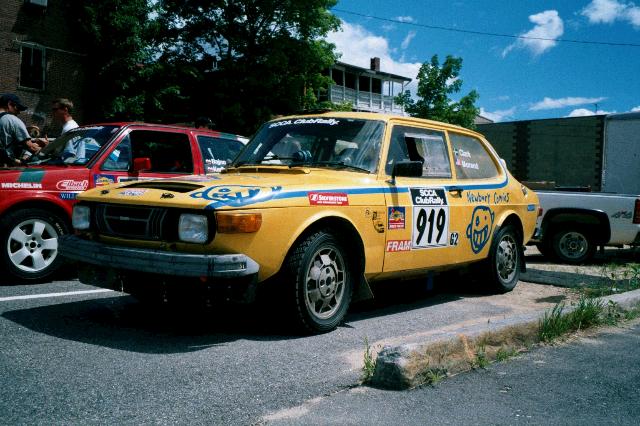 '76 SAAB 99 notchback
Drivetrain:

1980 "B" motor
Forged VW pistons
'73 EMS cam
Milled down head
Lightened flywheel
1980 CIS fuel injection system
'85 ECU (including Lambda)
900 turbo aluminum radiator
900 expansion tank
900 waterpump cover
Sport and Rally header
900 Turbo exhaust
900 turbo clutch
5spd from a 900
0.97:1 primary drive

Tires, Suspension & Brakes:

Soccerball and Shelby alloys
Silverstone tires
Stiff front rally springs
Soft rear stock 900 springs
Bilstein rally valve shocks
'87 900 rear axle
'87 900 front hubs
Re-inforced upper shock mounts F/R
Plated front control arms
Brake proportioning valve (F/R)
Hydraulic rear handbrake,
Slotted front rotors

Lighting:

H4 headlights
2 Hella 2000s
2 Hella 4000s
2 Bosch Rally lights

Electronics:

Alpha Pro computer
115A SAAB 9000 alternator
Optima battery
Fuses and relays mounted in front of co-driver

Interior:

Full cage extending to front bumper mounts
TRW Sabelt 6 point camlock harnesses
OMP carbon fiber seats

Exterior:

Polycarbonate side and rear windows
fiberglass trunk
custom front airdam
roof vent
900 grille
Stickers

Other:



Transmission soon to be upgraded with a newer unit with shot-peened gearset, cryogenecially frozen bearings, and hopefully a Quiaffe limited slip differential. Soon also will be a shortened throw shift. Soon to have fiberglass hood.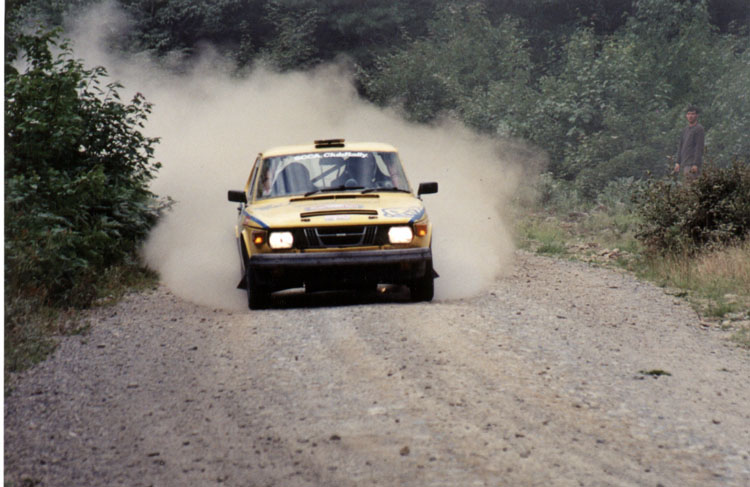 Photo by Delphoto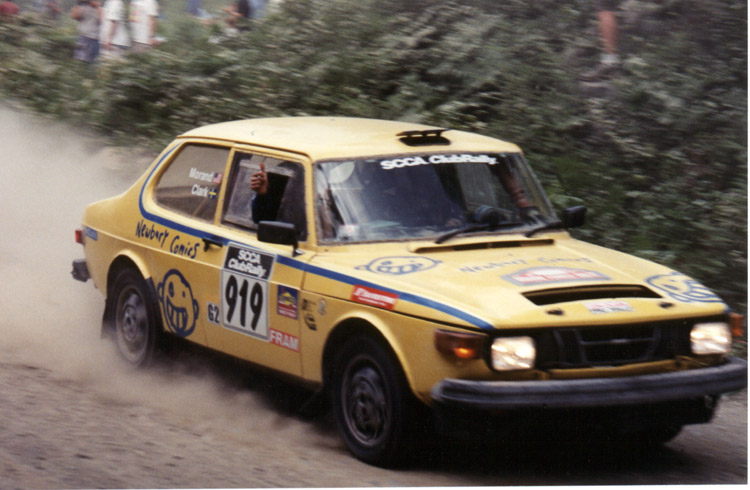 Photo by Delphoto
For a short video by Clark Fisher from the Maine Forest Rally '00, Click Here. - (1.9MB)
For a neat compilation video by Luke Sorensen, from the Team O'Neil Rallycross Aug '00, Click Here. - (17.1MB)
For more pictures from the Maine Forest Rally '00, Click Here.