"The Rabbit"
AKA "The Green Car"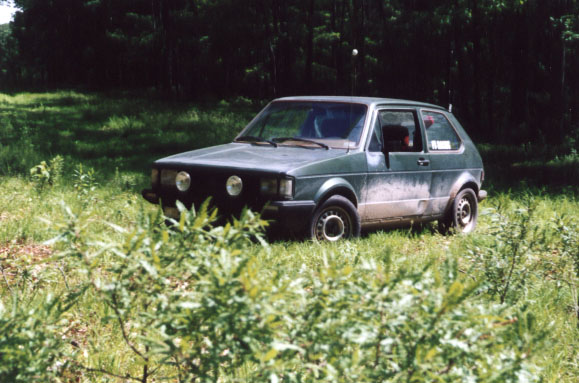 Blocking an access road at STPR.
1981 Rabbit L 2-door
Acquired 4-97 for $450
2nd car I have owned.
5th car I drove regularly.
Drivetrain:

1.7L Gas
4-speed
No AC
No power anything
K&N Air Filter
16V Scirocco Lower Air box
Digifant Fox Intake manifold
A2 Throttle Body
Autotech Dual Down Pipe
Autotech 2" Cat
Autotech 2" Aluminized Exhaust
Cooling System w/ Overflow Tank
Custom oil leaks (Mobil1 15/50)
90 Amp Altenator from an A2
VW Motorsport Rear motor mount
HD Diesel front motor mount
Removed excess vacuum lines
K&N filter for Crankcase breather

Tires, Suspension & Brakes:

Sumitmo HTR-4 185/60/14 Tires
14 X 6 Cabriolet steel wheels
Bilstein HD struts
200 lb/in springs front & rear
Rear adjustable coil-over set-up
880 lb/in SRS rear sway bar
SRS Lower Strut Brace
Neuspeed Upper Strut Brace
ATE 9.4" Vented Rotors
Porterfield Ent. Carbon/Kevlar Pads

Lighting:

Hella Gooseneck Halogen Map Light
Hella H-4 Headlights 55/100 bulbs
Hella 530 Fog Lights 55 watt bulbs
Hella 500 Driving Lights 100 watt bulbs
50 watt back-up lights
50 watt rear turn signals
50 watt brake lights
Clear Front Corner lights
Rewired tail & rear marker lights

Electronics:

Autometer Tachometer
JVC KD-GS620 in-dash CD player
Pioneer TS-879 3.5" front speakers
Pioneer TS-A5705 5"X7" rear speakers
300 Watt amplifier
10" subwoofer
Custom Andy Hobbs speaker box
Midland 77092 CB
Whistler 1430 Radar Detector
Signa Sport BC 600

Interior:

Seats from an '88 16V Scirocco
Front seatbelts from an '87 Jetta L
Scirocco Shift lever
6-Ball Shift knob
Scirocco Mk1 steering wheel
Relocated heater controls & radio

Exterior:

Custom Green & Primer Paint Job
Custom Vinyl lettering
European Bumpers
European GTi Spoiler
18" Driver's Side Wiper
Mud Flaps
Jolly Roger

Other:

First Aid Kit
Tow Strap
Traffic Triangles
Jumper Cables
Misc. Tools
Custom rust
Red fuzzy dice
Stuffed Bunny



Removed exterior trim, back seat, rear floor mat, rear side panels & headliner. For road rallies, off-road events & winter use, tires are 185/60/14 Dunlop Graspic snow tires on 14 X 6 Ronal R-8 (Audi 4000) wheels. For speed events driver's seat is a modified '83 GTi seat. Other than the listed items the car is totally stock.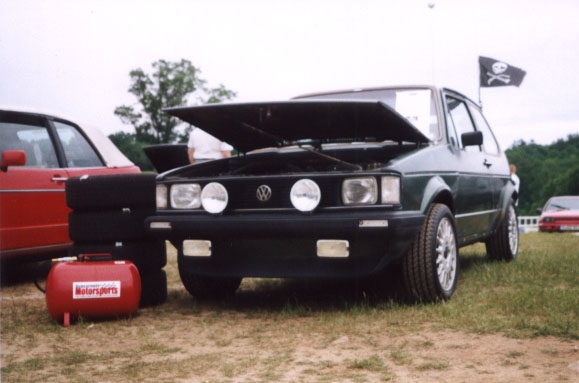 Clean & pretty at the Litchfield Bug-In '00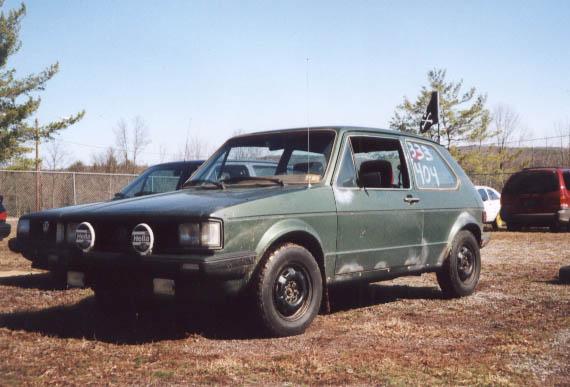 Ready to take on the East Durham Rallycross March '00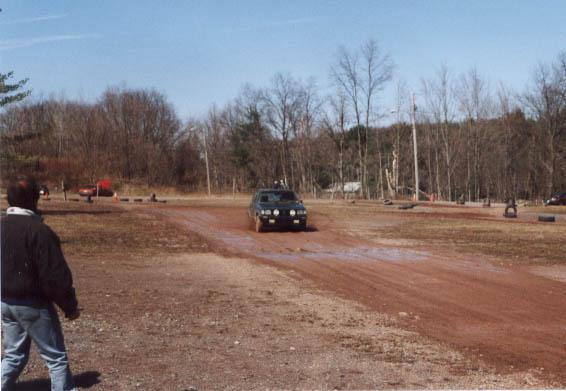 Getting dirty at the East Durham Rallycross March '00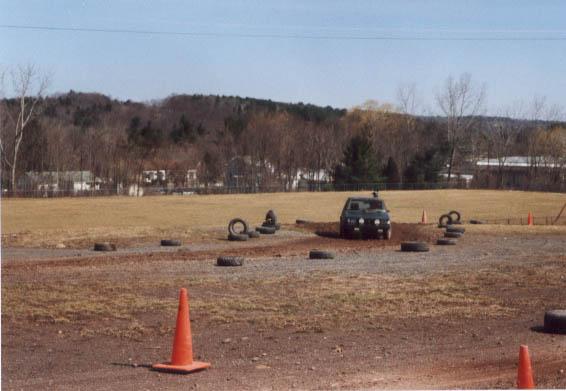 Sliding around a corner at the East Durham Rallycross March '00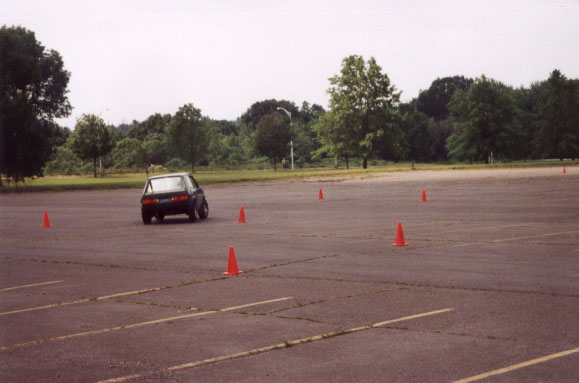 Lifting a tire at the CART Autocross June 17, '00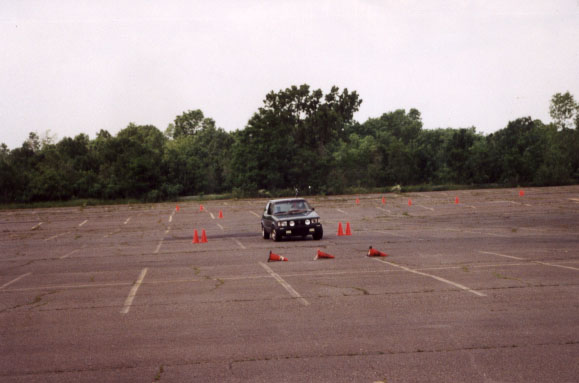 Going round the roundy round at the CART Autocross June 17, '00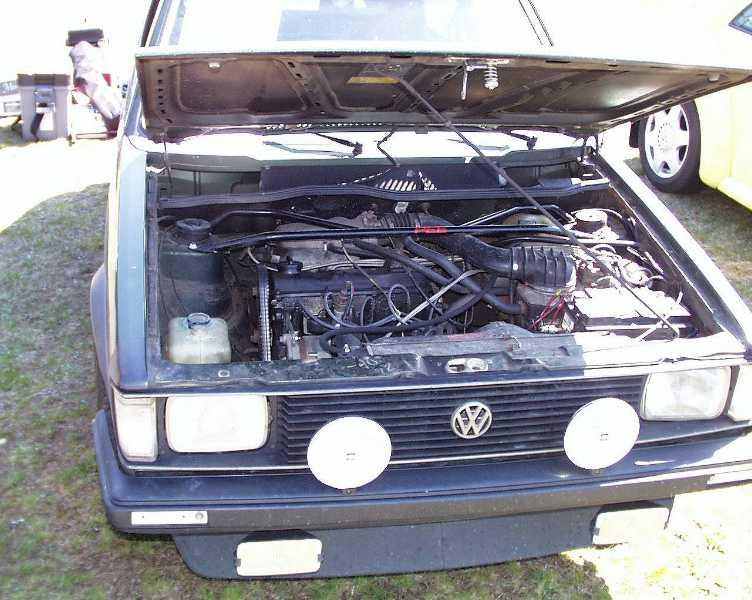 My "Super Clean" engine at the Spring Dust-Off '00

More Pictures
Waiting for upgrades, Summer 1999.
Working for it's keep, Summer 1998.
Off-Roading, September 1997.

I bought this car while I was in college when I realized that I was going to have to give The Jetta back to my sister & I was going to be stuck driving The Beast. When I bought it, I used many pieces from The Silver Rabbit in order to get it on the road. This car has been AWESOME. I have learned so much from this car & put it through so much, that I can't believe it has lasted as long as it has.

This car was retired 8-01. Technically the fuel pump died, but the real reason for it being retired was terminal rust. All of the good part have been saved & are being reused on my other VW's. The Rabbit Evo II is the planned replacment, but in the mean time I'll be driving random other VW's.

Previous Car or Next Car